RETHINKING
PLASTIC.
Try living a zero-plastic lifestyle for just one day, and you'll find out that you can't. Plastics are everywhere, whether you like it or not. To really tackle the plastic pollution problem, we need to go to the source and rethink the way we produce and use plastic. Think circular, and make sure plastic never becomes waste.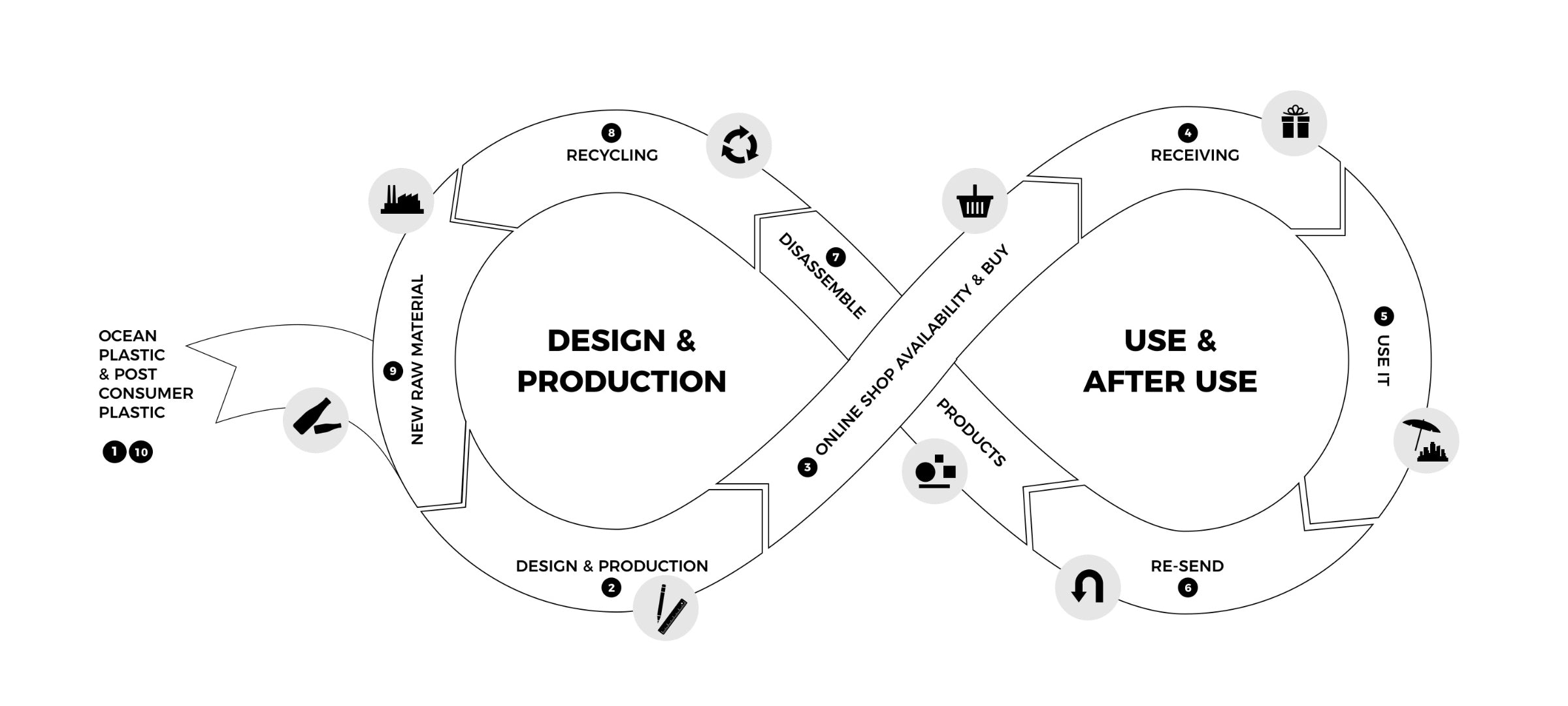 GOING FULL CIRCLE
We've created a 100% circular lifecycle to ensure your Seads never damage the environment. But we need
your help to keep it moving - and keep it closed!

#01 MARINE PLASTIC RECYCLING
Recovered Marine Plastic is sorted, washed and mixed with post-consumer plastic waste and transformed into new raw material. Every kilo of SEAQUAL® YARN, cleans about 1 kilo of marine waste from our oceans.
#02 CIRCULAR DESIGN
We've designed and manufactured your Seads with their end of life processing in mind, using materials and techniques that maximize circularity, right from the start.
#03 PACKAGING AND LOGISTICS
We've optimized our packaging and shipping logistics to reduce the environmental impact as much as possible. Choose your Seads carefully using our foot sizing tool. Keep in mind that wasted deliveries and returns impact the climate!
#04 RECEIVING
You receive your Seads in a RePack bag, which is a great solution to get rid of packaging trash, as it replaces single-use packaging. Don't throw the empty RePack away, just drop it in the nearest mailbox so it can be reused. It's simple and free!
#05 BE HAPPY
Enjoy your Seads espadrilles and flash our trademark Living Coral soles on the beach, in the city, at your office or in the comfort of your home to show your engagement with a clean ocean and a healthy planet.

#06 RETURN TO SENDER
Got an old pair of Seads? Send us an email, wait for your new RePack bag, and then send them back to us for upcycling. Or better yet, order a replacement pair, and send your old ones back to us when your shiny new ones arrive.
#07 SORTING - SEPARATION
Your good old Seads are taken apart and sorted according to material component. The goal is to keep these valuable resources in the value chain forever.
#08 MATERIAL RECYCLING
The material components are upcycled (again) into raw material, following the best and most efficient recycling method for each sort, while making sure there is no chance of contamination.
#09 REUSE REPURPOSE
The raw materials are carefully selected based on quality and re-usability to ensure they can take another ride in the Seads production process or can be repurposed to become completely new products.
#10 RESTART
We start all over again!
FOOTPRINT
REDUCTION.
Seads espadrilles are stylish, durable, and oh-so-comfortable. But perhaps most importantly, they help you take new steps in a better direction. We've created a 100% sustainable shoe that actively reduces your plastic footprint and helps to prevent more plastic from ending up in the environment and our oceans. We count on you to keep the circle moving!