MATERIAL
CHECK.
We work with suppliers that embrace environmentally friendly processes and technologies, which contribute towards a reduction in energy consumption and water conservation and stimulate the transition to a circular economy. By transforming waste into high performing recycled materials, they make it easy for you to take action against plastic pollution and help clean our oceans!
COMFORTABLE, BEACHY, STYLISH
AND SUSTAINABLE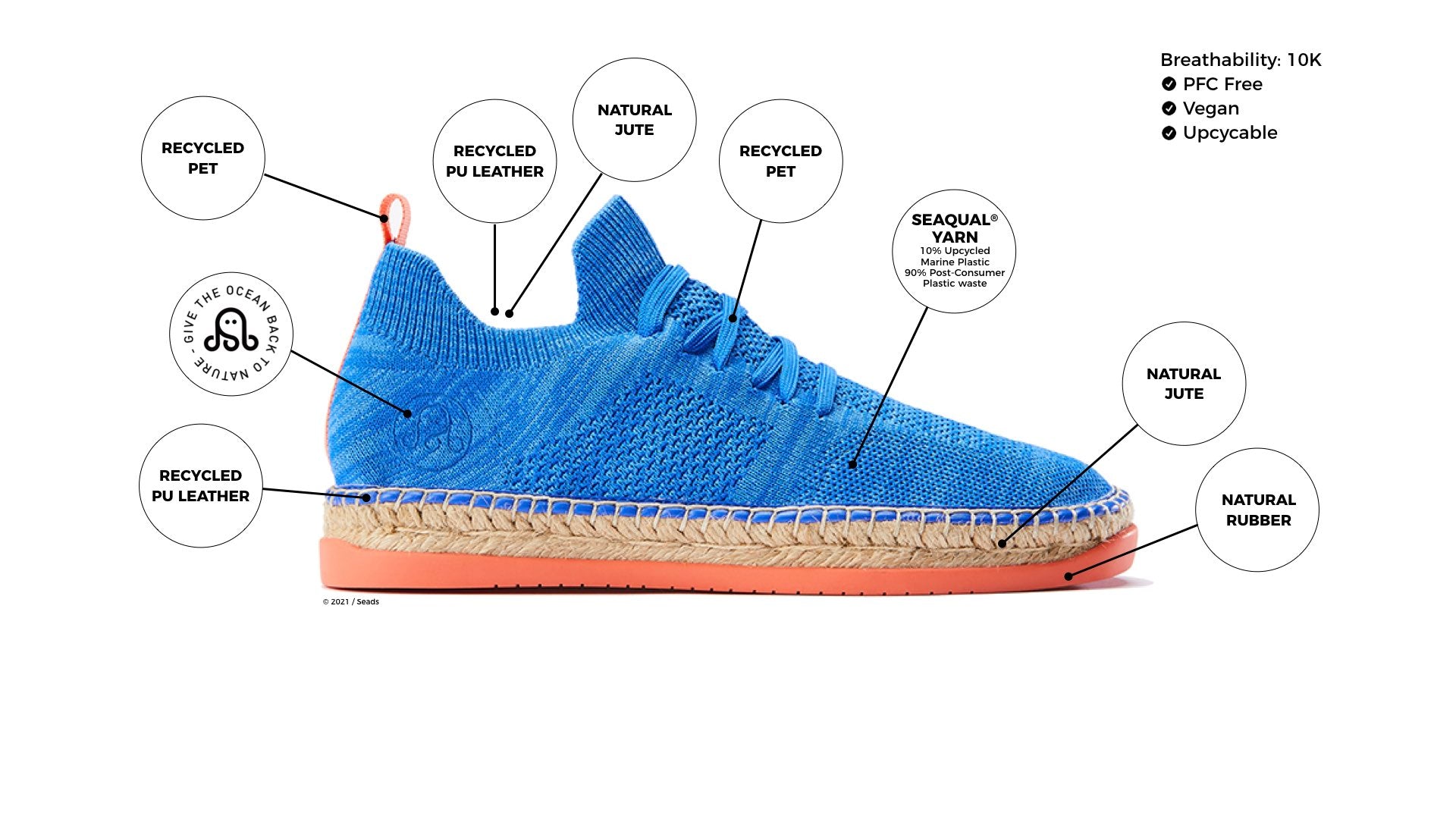 IN DETAIL.
Discover more about what we use in your Seads espadrilles.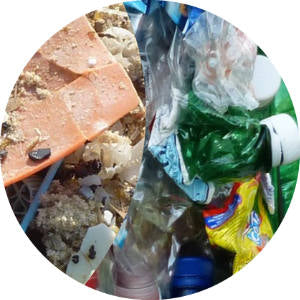 SEAQUAL® YARN
Seaqual® Yarn is a unique 100% recycled yarn made from 10% Upcycled Marine Plastic, recovered from our oceans, beaches and rivers, and 90% recycled PET packaging waste from households. It's almost identical in look and feel to virgin polyester yarn, but reduces water waste by 40%, energy consumption by 50%, and carbon emissions by 60% during the production process. Seaqual Yarn® is fully recyclable.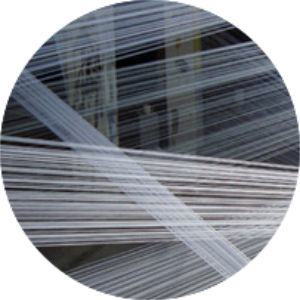 ELASTANE / RUBBER STRING
Depending on the model, a small percentage of elastane, also known as spandex or Lycra®, and rubber string is used to ensure an easy slip-on and a snug fit. Seads 001, 2% elastane; Seads 002 and 003, 4% rubber string. These stretch fibers are not blended with the Sequal yarn and can be extracted before recycling.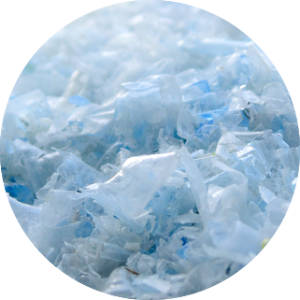 RECYCLED POLYESTER
Recycled polyester, which is sometimes called rPET, is a sustainable fiber made from recycled plastic bottles. Strong, durable, and completely recyclable at the end of its life, it also has a much smaller carbon footprint than virgin polyester and requires 70% less energy to manufacture.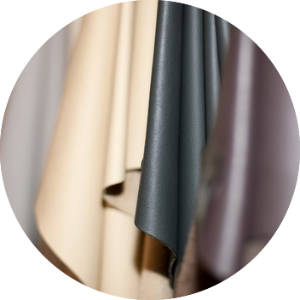 WATER-BASED PU LEATHER
Water-based PU leather is an eco-friendly synthetic leather. It's composed of recycled polyester with a solvent-free coating made of water-based polyurethane polymer materials. A true vegan leather, soft to the touch and breathable. The production process is pollution-free, without toxic wastewater and gas discharge.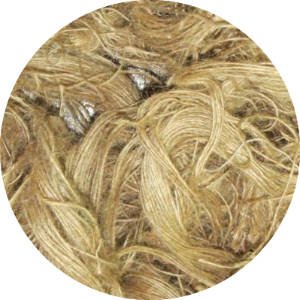 JUTE
Jute is a long, soft, and shiny natural fiber that is spun into long threads. It's one of the most useful organic materials and is called the "golden fiber" due to its beautiful color and exceptional versatility. Jute is 100% naturally biodegradable and incredibly safe as it requires no dangerous chemicals to grow or manufacture.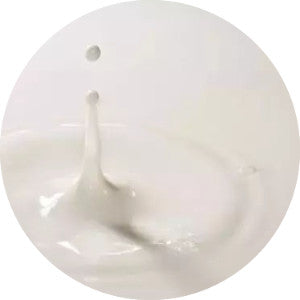 NATURAL RUBBER
Natural rubber comes from the Para rubber tree, a sustainable and highly regenerative flowering tree commonly found in countries such as Thailand, Indonesia, and Malaysia. Natural rubber contains no dangerous chemicals, metals, or petroleum, can be 100% recycled after use, and naturally biodegrades without any pollutants that cause damage to the environment.
COLOR
LINE-UP.
Seaqual® Yarn is the result of the first industry collaboration of SEAQUAL INITIATIVE and is what our tone on tone knitted uppers are made of. Dyed with environmentally friendly technologies, you can hardly believe the high-quality yarn was once plastic marine litter and packaging waste. Bright and strong, the yarn reflects the vibrant colors of our oceans and its underwater life. And of all the fun and joy we associate with it!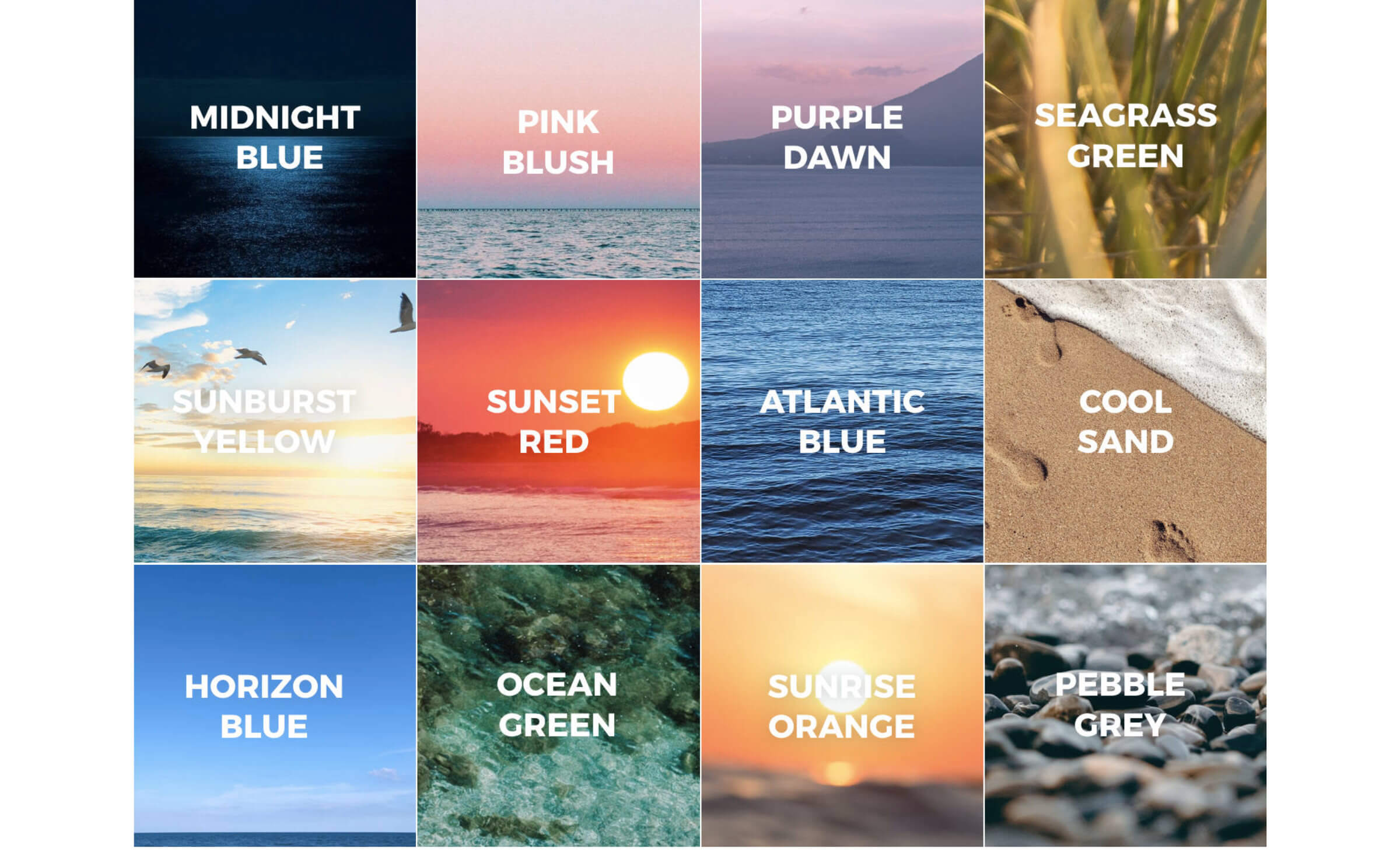 MIDNIGHT BLUE
is for sessions with friends by the campfire, long talks about life, and watching flickering lights dance all around you.
PINK BLUSH
is for people who want to make a splash, stand out from the crowd, and leave their mark on the world. Pink Blush is as bright as summer and as bold as a morning sunrise.
PURPLE DAWN
is that very early morning beach walk, just before the sun rises above the horizon. No longer full night and not yet day. The twilight hour, silent, meditative, with a beautiful dusty violet glow in the sky.
SEAGRASS GREEN
is inspired by the beauty and mystique of the secret world hidden beneath the waves. Seagrass maintains the ocean's natural balance, just like the ocean sustains ours.
ATLANTIC BLUE
is a homage to the wonder and beauty of the Atlantic Ocean, and all of the incredible marine animals – from dolphins to sea turtles - that call it home.
COOL SAND
is the feeling of the waves gently washing over your toes and your entire body exhaling. At that exact moment, you just know that today is a great day.

SUNBURST YELLOW
is the celebration of every new morning, the start of another day, and all of the exciting possibilities that are in store for us.
SUNSET RED
is the perfect end to a long day. It's a time for reflection, thankfulness, and looking forward to the incredible morning ahead.
HORIZON BLUE
is about peering into the distance and dreaming of a world not yet explored. Life might be a long journey, but you'll have plenty of adventures along the way.
OCEAN GREEN
is a tribute to the natural beauty of the sea. The calm waters, the crashing waves, the shimmery reflections, and the hidden world that lies just below the surface.
SUNRISE ORANGE
is the prospect of a warm beach towel, a long, lazy day, and the sound of waves gently crashing in the distance. All you have to do is lie back, relax, and take it all in.
PEBBLE GREY
is for explorers, stone-skimmers, and the forever young at heart. Rain or shine, there are rock pools to discover, sandhills to climb, and new adventures to be had.